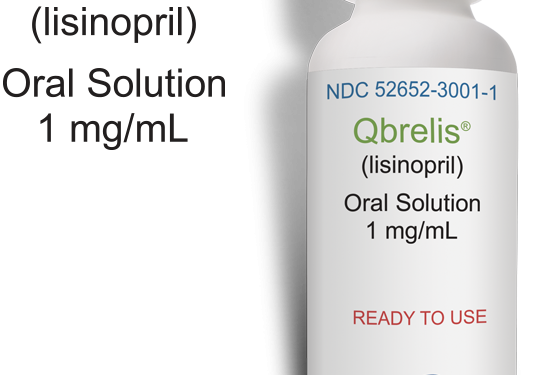 Denver, July 29, 2016 — Silvergate Pharmaceuticals, Inc. (www.silvergatepharma.com), leader in the development and commercialization of innovative and safe medicines for children, today announced that the United States Food and Drug Administration (FDA) approved Qbrelis™ (Lisinopril) Oral Solution, the first and only FDA-approved Lisinopril oral solution. Qbrelis™ is indicated for the treatment of hypertension (high blood pressure) in adult patients and pediatric patients 6 years of age and older, adjunct therapy for heart failure, and treatment of acute myocardial infarction in adults.1
"We are excited to launch our second product focused on pediatric patients and pediatric hypertension" said Frank Segrave, President & CEO, Silvergate Pharmaceuticals, Inc. "Qbrelis provides a ready-to-use oral solution for these children with the additional assurance of an FDA approved medication. As a company, we continue to focus on pediatric medications that are safe, effective, and readily available."
Qbrelis enables weight-based dosing for children 6 years of age and older who until now have relied on an adjusted adult dose. Qbrelis will be available through an extensive network of pharmacies and a qualified mail order service. For additional information on how to obtain Qbrelis, please call 1-855-379-0382.
About Qbrelis
Qbrelis delivers the trusted efficacy of lisinopril (an ACE inhibitor), the effectiveness of which has been well established in clinical trials.1 As a unique formulation of an oral solution, Qbrelis provides consistent potency and stability in each dose1, in addition to the quality of a product made in accordance with FDA regulations and requirements. People who have trouble swallowing lisinopril tablets may also benefit from Qbrelis.
Qbrelis reduces blood pressure. Lowering blood pressure reduces the risk of fatal and nonfatal cardiovascular events, primarily strokes and myocardial infarctions. Control of high blood pressure should be part of a comprehensive cardiovascular risk management, including, as appropriate, lipid control, diabetes management, antithrombotic therapy, smoking cessation, exercise, and limited sodium intake.
INDICATIONS
QBRELIS is an angiotensin-converting enzyme (ACE) inhibitor indicated for the:
treatment of hypertension in adult patients and pediatric patients 6 years of age and older to lower blood pressure.
reduction of signs and symptoms of systolic heart failure.
reduction of mortality in treatment of hemodynamically stable patients within 24 hours of acute myocardial infarction.
IMPORTANT SAFETY INFORMATION
BOXED WARNING: FETAL TOXICITY
See full Prescribing Information for complete boxed warning.
When pregnancy is detected, discontinue QBRELIS as soon as possible.
Drugs that act directly on the renin-angiotensin system can cause injury and death to the developing fetus.
ADDITIONAL IMPORTANT SAFETY INFORMATION
Qbrelis is contraindicated in patients who are hypersensitive to lisinopril or any component of Qbrelis, or in patients with a history of hypersensitivity related to previous ACE inhibitor treatment.
Qbrelis is contraindicated in patients with hereditary or idiopathic angioedema and should not be co-administered with aliskiren in patients with diabetes.
Angioedema: Angioedema of the face, extremities, lips, tongue, glottis, and/or larynx, including some fatal reactions, have been reported in patients treated with ACE inhibitors, including Qbrelis, at any time during treatment. Patients receiving an ACE inhibitor and an mTOR inhibitor concomitantly may be at increased risk for angioedema. Intestinal angioedema has been reported with ACE inhibitors. Discontinue Qbrelis and obtain appropriate therapy.
Anaphylactoid Reactions: Sudden and potentially life-threatening anaphylactoid reactions have occurred in some patients dialyzed with high-flux membranes treated concomitantly with an ACE inhibitor. Anaphylactoid reactions have also been reported in patients undergoing low-density lipoprotein apheresis with dextran sulfate absorption and in patients undergoing desensitizing treatment with hymenoptera venom.
Impaired Renal Function: Monitor renal function in patients treated with Qbrelis. Changes in renal function, including acute renal failure, can be caused by drugs that inhibit the renin-angiotensin system.
Hypotension: Qbrelis can cause symptomatic hypotension, sometimes complicated by oliguria, progressive azotemia, acute renal failure, or death. Qbrelis should be started under close medical supervision and followed closely for the first 2 weeks of treatment and whenever the dose of Qbrelis and/or a diuretic is increased. Avoid the use of Qbrelis in hemodynamically unstable patients after acute MI.
Hepatic Failure: ACE inhibitors have been associated with a syndrome that starts with cholestatic jaundice and progresses to fulminant hepatic necrosis and sometimes death. If jaundice or marked elevations of hepatic enzymes develop, discontinue the ACE inhibitor and receive appropriate medical follow-up.
Hyperkalemia: Serum potassium should be monitored in patients receiving Qbrelis. Drugs that inhibit the renin-angiotensin system can cause hyperkalemia. Risk factors for the development of hyperkalemia include renal insufficiency, diabetes mellitus, and the concomitant use of potassium-sparing diuretics, potassium supplements, and/or potassium-containing salt substitutes.
Adverse Reactions: (where rate on lisinopril exceeds the rate on placebo by at least 2%) occurring in greater than 1% of patients with:

Hypertension: headache, dizziness, and cough.
Systolic heart failure: hypotension and chest pain.
Acute myocardial infarction: hypotension and renal dysfunction.

See full Prescribing Information for further information, including other Adverse Reactions.

Concomitant administration of Qbrelis and antidiabetic medicines may cause an increased blood-glucose-lowering effect.
In patients who are elderly, volume-depleted (as on diuretic therapy), or with compromised renal function, use of NSAIDs, including selective COX-2 inhibitors, with ACE inhibitors, including lisinopril, may result in deterioration of renal function, including renal failure. Monitor renal function periodically in patients receiving lisinopril and NSAID therapy.
Dual inhibition of the renin-angiotensin system (RAS): Dual blockade of the RAS with angiotensin receptor blockers, ACE inhibitors, or aliskiren is associated with increased risks of hypotension, hyperkalemia and changes in renal function, (including acute renal failure) compared to monotherapy. Closely monitor BP, renal function and electrolytes in patients receiving Qbrelis and agents that effect the RAS.
Avoid the use of aliskiren with Qbrelis in patients with renal impairment.
Monitor serum lithium levels frequently if lithium is concomitantly administered with Qbrelis.
Nitritoid reactions have been reported rarely in patients with injectable gold (sodium aurothiomalate) and concomitant lisinopril therapy.
Concomitant use of Qbrelis with mTOR inhibitor therapy may increase the risk for angioedema.
Qbrelis is not recommended in children under the age of 6 years or in pediatric patients with glomerular filtration rate < 30 mL/min/1.73m2, as no data are available.
To report SUSPECTED ADVERSE REACTIONS, contact Silvergate Pharmaceuticals at 1-855-379-0383, or FDA at 1-800-FDA-1088 or www.fda.gov/MedWatch.
Please see accompanying full Prescribing Information for additional Important Safety Information, including boxed WARNING.
About Silvergate Pharmaceuticals, Inc.
Headquartered near Denver, Colorado, Silvergate Pharmaceuticals, Inc., is a privately held pharmaceutical company dedicated to leading the way in the development and commercialization of innovative pediatric medications that are safe, effective, and readily available.
Silvergate Pharmaceuticals is committed to filling the unmet needs of children, developing innovative medications that will help improve the quality of care and outcomes for pediatric patients. For more information, please visit www.silvergatepharma.com.
Reference: 1. Qbrelis [prescribing information]. Greenwood Village, CO: Silvergate Pharmaceuticals, Inc.; 2016.
Contact
Silvergate Pharmaceuticals, Inc
(855) 379-0382
silvergatepharma@silvergatepharma.com
SOURCE Silvergate Pharmaceuticals, Inc.
RA-0193-LI 160309
RELATED LINKS